FOHG trip March 2015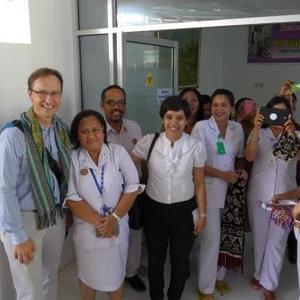 Medical:  A multi-disciplinary team, comprising experts in oncology, pharmacy and pharmacology, infectious disease, laboratory medicine, transfusion medicine, paediatrics and dermatology worked in Kupang during the week of 7th-14th March this year.
 This followed hot on the heels of the recent FOHG-sponsored trip by the new oncology team at Professor Johannes Hospital (PJH) to Adelaide for a 2 week introduction to multi-disciplinary cancer care in the Flinders Centre for Innovation in Cancer Care at the Flinders Medical Centre.
 In Kupang, Professor Chris was able to assist in the planning for and streamlining of team care in the hospital for oncology patients. This included reviewing the new oncology chemotherapy suite and staff who have enthusiastically embraced the concept of coordinated care for cancer patients. Dr Jane, Dr Alders and nurse Ramliah who formed the visiting team to Adelaide, have worked  extremely hard with the support of Dr Heri and PJH medical administration (Dr Minah especially) to see the project come to initial fruition. Coordination of chemotherapy production with pharmacy was discussed. The importance of timing of treatment delivery was emphasised.  The establishment of medical led tumour specific multidisciplinary meetings, covering the most common tumours (Gynaecological, Breast, Lung and Head and Neck) was recommended.  Further needs were assessed on this trip and the requirement for a dedicated oncology ward was raised. Strategies for safe and effective chemotherapy and other biohazardous waste management was also considered.  The oncology initiative is part of a 3-year programme from FOHG for up-skilling in the area of oncology across medicine, nursing, pharmacy, surgery and pathology.
 Pharmacy support was provided by Dr Aaron and Pharmacist Reena, who expertly lent medical and pharmacy organisational and teaching skills to the trip.  A new network with the pharmacists at PJH has now been established and a number of priority areas identified including drug supply and procurement, safe handling and the development of a clinical pharmacy resource.
 Pathology services at Johannes hospital have now received funding to develop an anatomical laboratory which will greatly enhance the ability to receive timely diagnoses of cancers. FOHG will support pathology specialist up-skilling over the next 3 years.
Dr Smathi and Barbara reviewed the microbiology laboratory and continued to support further professional development for staff. This builds on work ongoing for a number of years and strong relationships with Dr Ita, Dr Samson and the lab staff.
 Associate Professor David was key note speaker at a 2 day transfusion workshop for local and provincial health workers, Red Cross workers and scientists in the area of blood transfusion in NTT. FOHG partnered with Dr Samson from PJH and Red Cross to facilitate this activity. This was a major programme attended by many stakeholders in this important field.
 Dr Brett met with the paediatrician at PJH and development of a longer term up skilling programme in neonatology and paediatrics is in discussion at present.
 The long association of FOHG with the Dermatology unit at PJH continued with a visit by Dr Gill and Dr Cassandra which focussed on the question of leprosy control in NTT. From this, a closer review of leprosy in the province partnering PJH, public health department and Undana medical school is planned.
 By invitation, lectures were given to the Undana medical students in oncology and dermatology, and to the nursing and pharmacy students in oncology, leprosy and pharmacy. The core role of FOHG in partnering with various institutions in the education of health workers actively continues.
 The FOHG team also presented guest lectures at the PJH Doctors' Teaching Coffee meeting in oncology, pharmacy and leprosy. There was active discussion and sharing of ideas.
 A meeting with the Governor of NTT, Frans Lebu Raya, accomplished unprecedented access to the decision-makers of the area and gave an opportunity to discuss the reach of the oncology service development programme. Enthusiastic support was offered and portends well for the future of cancer care in the province.
 Frank discussions with the medical and administrative leaders at PJH allowed identification of areas of need and priority within the hospital for upgrading and support. The long term association of FOHG with PJH was reinforced and consolidated. There is clearly much to be done but there is a sense of great optimism within the teams of FOHG and PJH.
 Social programme
FOHG's longstanding commitment to assistance with provision of health education and upskilling of workers in the field continues.  Our association with providers of basic health education for the disadvantaged and impoverished remains strong.  Sr Yas (RVM) is a lynch pin in prioritising needs in the area and Dick spent useful time in field visits to areas where programmes are needed. It is clear that health resources drop off precipitously in NTT as distance from Kupang increases.