Infection Prevention and Management Trip 2019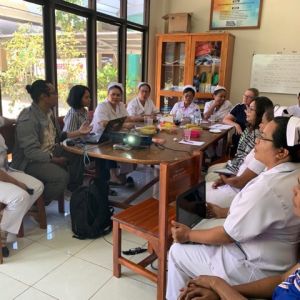 The primary focus of this trip was to assess and evaluate Infection Prevention & Control (IPC) and to provide technical support to the Infection Prevention team at Prof Johannes Hospital (PJH). The FOHG team comprising Ann Whitfield, Infection Prevention Clinical Nurse Specialist and Microbiology Medical Scientists, Trish Green and Angelo Caon, worked in partnership with PJH health care workers. Ann and Trish are from Perth and Angelo is from Adelaide.
A very busy week ensued as environmental swabs were taken from high risk areas, including the Neonatal ICU (NICU), on the first day. These results were analysed in conjunction with workflows and systems that were already in place. Ann lead and supported the hospital IPC team to do a self-assessment of IPC within the hospital utilising the World Health Organization (WHO) Infection Prevention and Control Assessment and Hand Hygiene Self-Assessment Frameworks. Throughout the week Ann imparted invaluable knowledge of her vast Infection Prevention technical expertise and formulated valuable auditing tools and reports that the team could use to move them forward and in line with WHO standards. The team worked within the Indonesian Ministry of Health guidelines and in alignment with the Flinders Overseas Health Group (FOHG) standards and values.
Trish and Angelo supported Ann with laboratory findings. They also provided ongoing teaching of laboratory staff and made suggestions for improvements to laboratory processes which ultimately contributes to better patient outcomes. The FOHG team also presented several lectures at a seminar day for laboratory analysts from across the district including students from the Kupang Health Polytechnic.
We were privileged to be invited to a meeting with Dr Dominikus Mere, acting director of Johannes Hospital and the Vice Governor of NTT, Josef Nae Soi, to discuss the purpose of our visit. It was pleasing to have the enthusiastic on-going support at such a high level for FOHG's involvement in NTT. We are always very appreciative to Dr Dominikus for facilitating our meetings at the decision making level.
Overall it was another fulfilling and rewarding week working with enthusiastic and receptive staff from PJH who, as always, made us feel so welcome and so valued. There is much work to be done and we look forward to returning to pick up where we left off.