Teaching trip to Muder Ignacia Hospital (RSMI), February 2019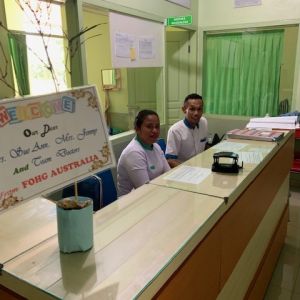 In late February 2019 a team from FOHG travelled to Soe to teach at Rumah Sakhit Muder Ignacia. The team comprised Peter Scott, an obstetrician , Meiri Robertson, an obstetric ultrasound specialist, and Ann Maree Parker and Lea Hulbert, midwives , all from Canberra Hospital. Our translator for the week was Joahnnes Sebastianus - known to all as Nus - who has been a Godsend on our trips for several years with his local knowledge, consummate professionalism and his "nothing is too much effort" attitude.
We were accompanied by Sue Ann O'Rourke, who with her husband David have been major benefactors of RSMI, and David's mother Jenny O'Rourke. I think that Sue Ann and Jenny were quite overwhelmed by the warmth of the welcome they received, by the quality of the hospital, and the dedication of the RVM sisters, the staff and the local people. On arrival on Sunday night we were treated to a traditional welcome by local elders, and a welcome song from the sisters - the warmth and goodwill that this generated continued through the week.
The RVM sisters are a joy to spend time with, and their dedication to the well-being of the staff and patients, and their pride in the hospital is truly inspiring. For our hands-on training in obstetric and neonatal emergencies we had a group of 22, comprising midwives, nurses and doctors from both RSMI and surrounding health centres. This was a very enthusiastic group, and keeping to this relatively small number of participants allowed for very efficient interactive transfer of skills.
Their evaluations at the end of the training were unanimously positive. Meiri was also able to give "real time" ultrasound training on equipment within RSMI, previously supplied by FOHG, thus enhancing the potential for even basic ultrasound skills to improve the care available to women. A highlight of the week was an afternoon session on normal labour and birth given by Ann Maree and Lea, demonstrating the benefits of women being mobile during labour, of birth in positions other than "flat on the back," of simple methods of analgesia, and strategies to avoid trauma during the birth. On the last day of the training a woman presented in early labour, thought to be twenty-six weeks.
The staff were able, firstly, to use ultrasound measurements to establish that she was in fact 37 weeks, and secondly, to apply the principles of management of normal labour to achieve a happy outcome for the woman and her baby. This was a very productive and positive week's training. We are planning regular trips in the future, and can foresee RSMI becoming a "centre of excellence" for training and skills transfer for many years to come.